We Help Children Enjoy the Dentist
Dr. Aitken endeavours to help children of all ages feel relaxed and enjoy themselves, so bring the whole family along! He uses techniques to reduce their time in the chair, providing their treatments with compassion and a smile. Our team teaches children healthy dental habits they can use throughout their lifetime and encourages children of all ages to employ proper dental hygiene at home. We look forward to meeting your child for their first dental visit when they cut their first tooth and hope to see them grow year after year.
We want to ensure that this and future generations of children grow up without a fear of the dental office. Our many happy parents say we are doing just that! Whether you have a tentative seven-year-old or a boisterous three-year-old, we are here to help you.
We Love Kids!
Here at Vista Dental we love our younger patients. We love treating them and teaching them how to take care of their teeth and gums. Most of all we want to make sure their dental experience is fun and comfortable. We don't want them to grow up with a fear of the dentist, a fear that could haunt them the rest of their lives. We create a safe space for them. Our kids love it here and yours will too.
Poor cleaning can increase the risk that teeth will develop decay when subjected to food and juice acids. Little kids often "graze," eating frequently throughout the day. This produces an extended exposure to food acids, which may also generate more cavities. The good news is that recognizing poor dietary and hygiene habits, along with applying a fluoride varnish to the mineralizing teeth, can lessen the odds that your child will incur a cavity.
A Simple Way to Prevent Child Tooth Decay
Dental sealants help compensate for a child's inability to brush properly. Even though they try hard, they're still learning, and their hand-to-eye coordination isn't fully developed. Even with meticulous brushing, it is possible that the deep grooves in the back teeth may be missed. These hard-to-reach brushing areas even elude adults.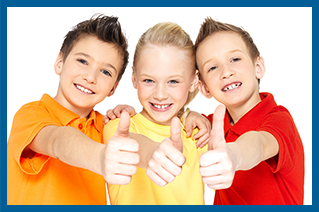 Poorly cleaned teeth can permit the accumulation of bacteria, acids, and plaque, which will later cause decay. And once a tooth has decay, it is damaged forever and will likely need a filling or a crown.
A dental sealant procedure is done as follows:
The tooth (or teeth) is cleansed and sterilized.
A white or clear plastic coating is lightly brushed on their tooth enamel.
A curing light is focused on the sealant to bond it into place.
In very little time, without shots or drills, the entire process is finished. The application of dental sealants is harmless and one of the best things both children and adolescents can have done to prevent damage and safeguard their natural teeth!
Your entire family deserves a healthy smile! Give us a call today at (855) 636-9223 to schedule a visit for everyone.
---